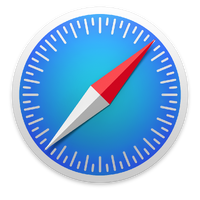 Safari is a graphical web browser developed by Apple and included as part of the macOS operating system based. First released as a public beta on January 7, 2003, on the company's macOS operating system, it became Apple's default browser beginning with Mac OS X 10.3 Panther. Safari is also the native browser for the iOS. A version of Safari for the Microsoft Windows operating system, first released on June 11, 2007, supports Windows XP, Windows Vista, and Windows 7. The latest stable release of the browser that is available as a free download for both Apple's macOS and Microsoft Windows is version 5.0. Currently, the latest version of Safari is 11.0 and is included on every Apple computer running macOS High Sierra. Safari is built on the WebKit engine.
Features and compatibility
developer links are broken
Apple publishes documentation for Safari's HTML, CSS, and DOM capabilities, among 135 total references. Specific information, such as the earliest version to support each feature, seems to be unavailable, however.
External Links
See Also