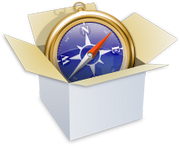 WebKit is a layout engine designed to allow web browsers to render web pages. The WebKit engine provides a set of classes to display web content in windows, and implements browser features such as following links when clicked by the user, managing a back-forward list, and managing a history of pages recently visited.
WebKit was originally created as a fork of KHTML as the layout engine for Apple's Safari browser; it is portable to many other computing platforms. It is also used in Google's Google Chrome browser.

WebKit is used as the rendering engine within Safari on Windows, Mac OS X and iOS. Other applications on Mac OS X can make use of WebKit, for example Apple's e-mail client Mail and the 2008 version of Microsoft's Entourage personal information manager both make use of WebKit to render e-mail messages with HTML content.
New web browsers have been built around WebKit such as the S60 browser on Symbian mobile phones, Midori, Shiira, Google's Chrome browser, Uzbl, Maxthon 3 and the Android Web browser. WebKit has been adopted as the rendering engine in OmniWeb, iCab and Epiphany replacing their original rendering engines. Epiphany supported both Gecko and WebKit for some time, but the team decided that Gecko's release cycle and future development plans would make it cumbersome to continue supporting it. Palm's WebOS is also based on WebKit. The latest interface update for Valve Corporation's Steam uses WebKit for rendering of its interface and built in browser. WebKit is used to render HTML and execute JavaScript in Adobe's AIR application platform. In Adobe Creative Suite CS5, WebKit is used to render some parts of the user interface.